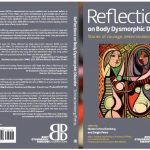 'Reflections on Body Dysmorphic Disorder: Stories of Courage, Determination and Hope' contains the lived experiences of thirty-six people with BDD and their loved ones. 
"This is a landmark book – written mostly by sufferers, family members, and carers of those who have struggled with cruel disorder. Their perspective is invaluable, their voices are powerful, and they uniquely understand the experience of BDD". ~ Professor Katharine Phillips, MD

Now available as an E-Book. Also available in Paperback on Amazon and Lulu.