The BDD Foundation needs funds to support the charity and provide help and information to people with BDD and their carers.

Raising money for the BDD Foundation is easy:
Choose the type of fundraising you are doing
Choose a website address for your fund raising page
Email your contacts to tell them about your event
Tell everyone your text code – people can donate up to £10 by text message
Share your page on Facebook – your friends can give without leaving Facebook if you use the Just Giving Facebook App.
Take a look at the inspiring work our Fundraisers are doing. Please keep
supporting them and us generously.
Lisa and Tracy's Fundraising for BDD 
We are humbled by Lisa & Tracy's tremendous fundraising efforts to not only raise funds but also awareness for BDD. Thank you so much! Please support them & us in any way you can. 

Fundraisers:  Tracy Northampton, Lisa Franklin
Virgin page: http://uk.virginmoneygiving.com/team/LisaandTracy
Event: 26.2 mile marathon walk through London on Saturday 23 September 2017

Thank you for sponsoring our walk.  We are raising money for the Body Dysmorphic Disorder Foundation.  

Body Dysmorphia has become a very common mental illness which affects people of any age.  It is particularly prevalent among boys and girls as they cope with the pressures of modern life.

This is a mental illness which is particularly close to us and we have first- hand knowledge of the wonderful work that this charity does.

Any help you can give us will be greatly appreciated.

Love

Lisa and Tracy 
---
Europe's Most Minimal Cycle Tour


In late June 2017 I, Rob, will be setting off on a 5,000 mile cycling expedition that will cross 16 countries in Europe.

It's called 'Europe's Most Minimal Cycle Tour' because I'm going to do it wearing the least amount of clothing possible, both on the bike, and at resting places along the route.

Over the years I've been very body conscious and dissatisfied with my appearance; looking back and reflecting on photographs at times I've been thin but at the time viewed myself through a different negative lens.


Goldsmiths University research published in January 2017 found that participation in naturist activities helps build a more positive body image, and higher self-esteem.

In 2015 I tried a naturist holiday in France and since then other activities; I felt the same benefits and so along the way I've advocated the lifestyle, promoted options online and raised awareness of options to friends and colleagues.

The two charities I am raising money for are BEAT, the UK's Eating Disorder Charity, and BDDF, The Body Dysmorphic Foundation. Their work is all about researching new ways to improving peoples lives who suffer from body image and eating disorder related illnesses, and at the same time helping them directly.

I will be staying at more than 50 naturist clubs and resorts and for some parts of the route, (with local permission), hope to cycle naked too. It won't be practical to do this for the whole journey and attitudes vary from place to place but it is something I want to explore.

I hope that coverage of the trip along with the growing number of articles and resources on this website will inspire people to go to local events and to try holidays. I think social nudity can help both people who are suffering from body image issues and generally the public for leisure enjoyment and positive mental health benefits.

Further details about this fundraising campaign can be found here (http://asitiz.com)

Please support Rob (and us!) on his journey via mydonate https://mydonate.bt.com/fundraisers/asitiz


---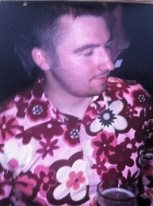 In memory of Chris Exley:

Chris's friends and family are organising various events including a bake sale, an amazing charity evening to raise money in his honour, eBay sales, and Chris's brother is running the Cusworth 10k. They are an inspiration to us all.

The charity fundraising evening event is being held at the New Tyke, Thornton Road, Bradford on Saturday 26th September. The evening will include a Phil Collins tribute, performed by Rob Lewis who won Stars in Their Eyes in 2005, hot and cold supper, a silent auction and raffles – all of which have some fantastic prizes!! Tickets and information are available from Louise Nicol on or by calling 07944 620279.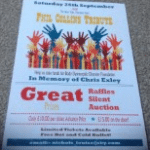 Please kindly support Chris's memory and the BDD Foundation. Visit Chris's Virgin Money Giving Page.

Read more about Chris, BDD, and the fundraising event in the Bradford Telegraph and Argus.