Crowdfunding campaign for a short film on Muscle Dysmorphia and men's mental health needs you!
The Film Bulking up will largely be based on the real life experience of muscle dysmorphia, suffered by the actor Micky David (who is playing Danny) in his early twenties:
"It's hard to explain but if my t-shirt wasn't tight around my biceps or if I'd eaten something that wasn't in my nutrition plan it'd play on my mind on repeat.

After once being told how skinny I immediately took on an eight week bulking regime, force feeding myself 4000 calories a day & lifting heavy weights. Although I put on 10KG and packed on muscle I suffered numerous illnesses including urine infections, daily bowel issues, a shoulder injury and muscle damage, not to mention daily insecurities about the way I looked.

Every detail embedded in the film are day to day occurrences I faced when Bulking Up, from panicking over what to eat to the meticulous logging of nutrition and progress. I want the film to be truthful, so to recall on my own story and specific elements of others was fundamental."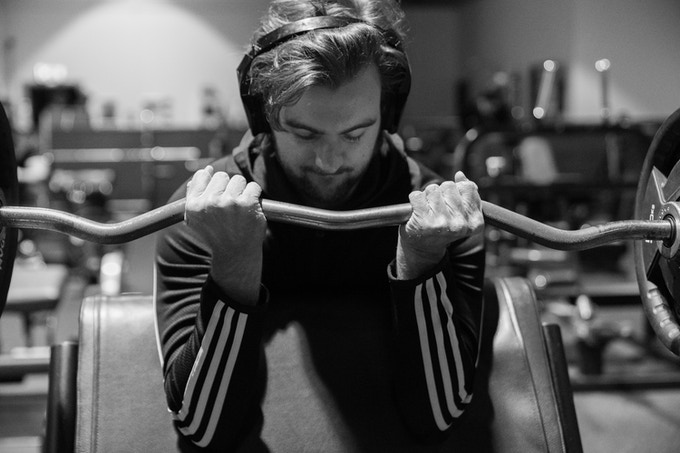 Bulking Up is a short film about muscle dysmorphia and men's mental health. We follow our protagonist Danny (Micky David) as he battles with the perception of his own appearance, whilst his world starts to falls apart.
Bulking Up Is a co-production between Firework Productions (TAYLOR) and the Academy Award Winning Slick Films (The Silent Child, Sucker Punch)
The Story
Danny's journey to carve the body of his dreams is lined with hurdles. His best mate constantly pesters him to go out drinking, which jeopardises his progress. He is on thin ice at work for persistent lateness after cramming in extra workouts. Then he has to endure his boss' incessant daily fantasies over male celebrities, which only escalates his anxieties. Even when his girlfriend tries to be intimate with him, hatred of his own body comes between them.
Six weeks in and Danny is still unable to bear his reflection. His fitness fixation soars and his regime turns into a vicious cycle of binging, lifting and throwing up. His life spirals out of control, catastrophically splitting up with his girlfriend, falling out with his best friend, dropped by his agent and being sacked from work. Just when things can't get any worse he seriously injures himself at the gym, putting himself out of action.
After twelve weeks Danny's obsession has turned his life upside down and he stares longingly at the influencer's profile. He appears to have it all; the body of an Adonis, over a hundred thousand followers and a lifestyle to die for. However, underneath his filtered snaps hides a very dark reality that is about to take its toll. Oblivious and alone Danny embarks on a new, but dangerous, alternative to achieve the physique he has always longed for.
More stories from the community