This Autumn we are bringing you a new series of webinars covering new topics that we hope will be of interest and support to the BDD community.
Register your attendance for the live zoom webinar: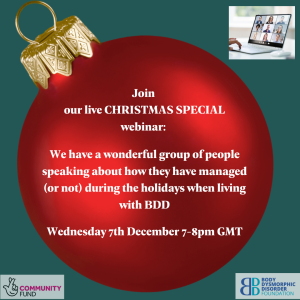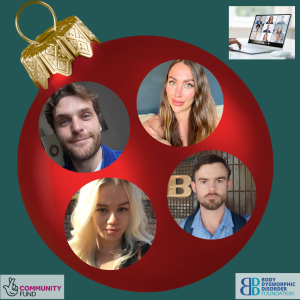 A lovely group of individuals with lived experience of BDD will be presenting a webinar on:
'Managing BDD over the holidays'
With the holidays approaching (often a difficult time of year for anyone affected by BDD) we wanted to bring you a Christmas Special Webinar.
We have a wonderful group of people speaking about how they have managed (or not) during the holidays when living with BDD. They will share their experiences as well as discussing what helped them, what didn't, and giving some hints and tips to family members about how best they can support their loved one.
We'd also like to recognise that not everyone experiencing BDD celebrates Christmas, and that depending on your background and culture there may be holidays or periods of time that involve similar pressures and triggers to what we talk about in the webinar. With this in mind, we hope that this webinar is still helpful.
Date: Wednesday 7th December
Time: 7-8pm GMT
Presenting: Andy Hall, Kim Booker, Mia Hill and Lawrence Baker.
---
More stories from the community