A director with lived experience of BDD has started a crowdfunding campaign to create a film: 'Strength in Numbers' in order to raise awareness of Body Dysmorphia
Ben McLaughlin is a filmmaker from Philadelphia who has experienced body dysmorphia for 5 years now, and who now hopes to make a difference within the BDD community. He believes that the best way to do that is through a PSA campaign, titled 'Strength in Numbers', that shows the daily experiences of individuals that also deal with this condition.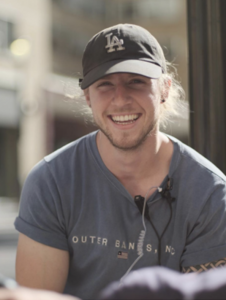 "I have suffered from a hyperfixation on my body for years and it's something that, at points, has dominated the state of my mental health. My goal with this project is to tell individual stories to broaden our communities' knowledge on Body Dysmorphia and how it affects specific people. Your experience is unique to who you are, but you are not alone."
McLaughlin and his crew of filmmakers are currently crowdfunding for the first PSA that showcases the stories of individuals with body dysmorphia. The film will tell John's story- Ben's best friend who inspired the campaign. It will follow his journey with muscle dysmorphia and the obsessive tendencies that come with it.
Not only are Ben and his team crowdfunding for the production of the piece, they are also donating 20% of each donation to the BDD Foundation.
This production is through Typo Film House, a start-up production company based in Philadelphia that McLaughlin has co-founded with four other passionate creatives. They need your help to share this important message with the world!
Please support the PSA by following this link and donating.
You can also stay up to date with the PSA and their other upcoming projects on Typo's Instagram @typofilmhouse
More stories from the community